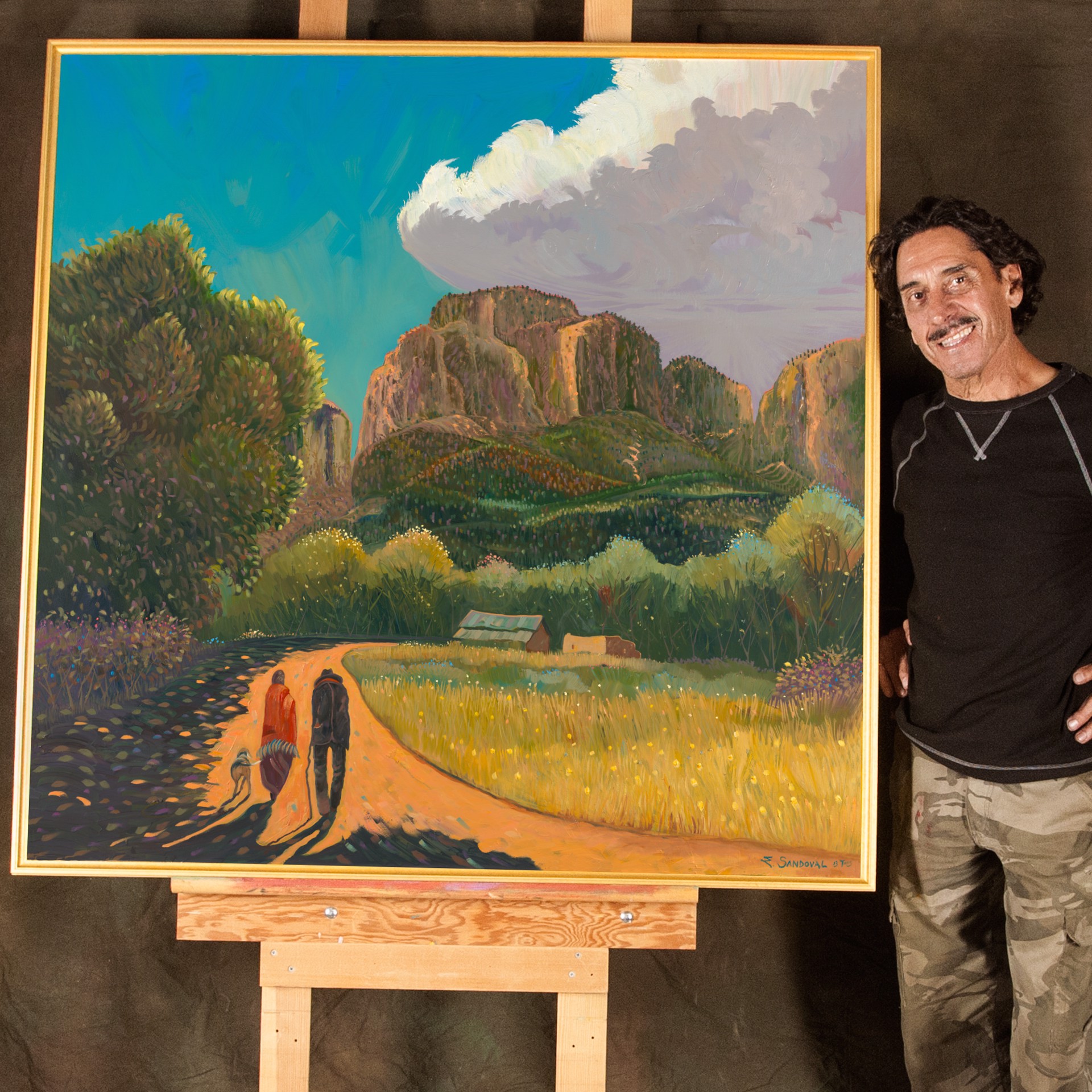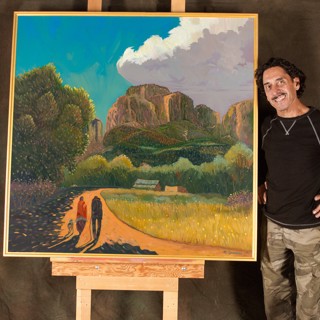 Visitors walking down scenic Quesnel Street in Taos are likely to encounter Ed Sandoval, a Don Quixote character as colorful as the landscapes he paints. On most days, he paints outside across the street from his Arabian horse.
Ed was born in Nambe, NM, and grew up on a small ranch. When he was still young, the family moved to Los Alamos so his father could work on the Manhattan Project, but they returned to Nambe every weekend to tend to the crops, garden and animals. He graduated from Los Alamos High School (LAHS), and after receiving his Bachelor's in Fine Arts from Eastern New Mexico University and Master's in Psychology from the University of Utah, he returned to LAHS to teach art classes. He also lived in Tesuque and Truchas before finally settling in Taos.
Ed's paintings illustrate his deep reverence for the New Mexico of his boyhood, when rural life was slow and peaceful. He preserves that way of life, bringing his memories of the "old ones" into landscapes filled with bold color and rustic serenity. Priming each canvas with a deep red undercoat, he outlines the Sangre de Cristo (Blood of Christ) Mountains pulsing with energy and warmth. Sagebrush, chamisa and majestic cottonwoods surround his weathered adobe casitas. White clouds contrast boldly against a blue sky. Ed's signature image of "El Viejito" (the little old man) walks solitary or with a companion down a dusty, winding pathway.
Inspired by New Mexico's ever-changing symphony of color, Ed captures "a feeling of impressionism and expressionism with bold movement." When not painting, Ed rides his proud Arabian horse, Patron, through the Taos plaza, often as Zorro with a mask, cape and sword.
Awards
2021 "Best of Taos" award recipient.
2012 New Mexico's Governor's Award for Excellence in the Arts.
He has been featured in leading publications such as the 2021 Santa Fean, New Mexico Magazine, Cowboys & Indians and Southwest Art, and has been the poster artist for the Santa Fe Wine & Chile Fiesta, the Santa Fe Opera and other celebrations and events.
Former President Barack Obama chose one of Ed's paintings to adorn his official thank you card for New Mexico, and he was recently filmed by the Travel Channel.
Ed continues to receive notice from writers, and has amassed a large collector base over the years who appreciate his authentic, direct connection to the New Mexico of then and now, his joyfully expressive style, the narrative of his work and his personal charisma and charm.
Read More