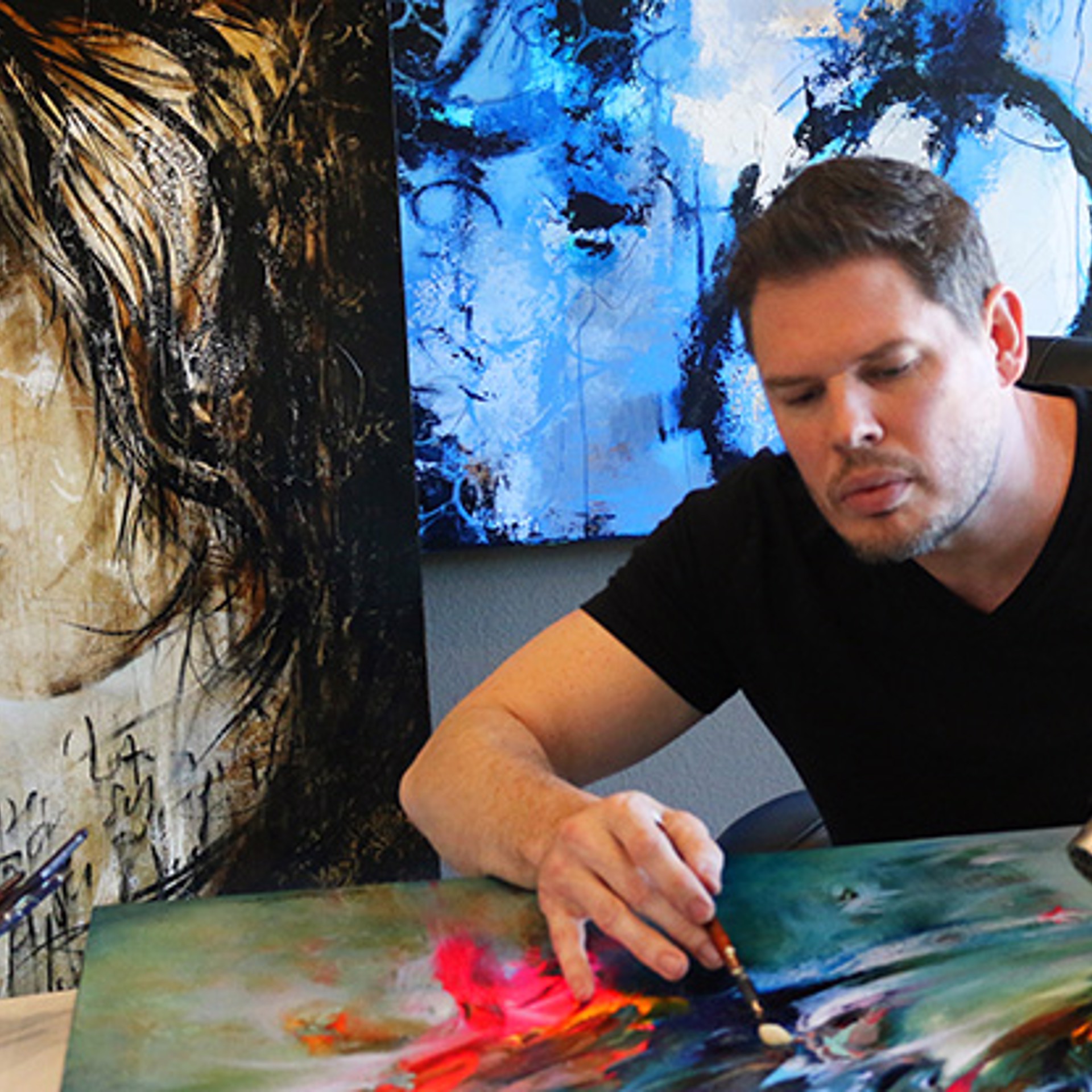 b. 1978 - Perryton, Texas

Cody Hooper grew up in North Texas and now lives and works in Austin, Texas. His passion for art began at a young age. As a child he was surrounded by art and music, along with the beauty of nature, inspiring his interest in fine art.

At just 11 years old, Hooper was given the opportunity to study under Southwest Watercolor Artist, Barbara Hughes, for 5 years. This set his foundation as an artist throughout his early years as he focused primarily on realism and complex layering techniques, creating a method that he still practices today. He read and studied every book on color theory, conceptualizing and balancing, practicing art, calligraphy, architecture, design and attended sponsored artist workshops through the Southwest Watercolor Society.

After many years of painting this way, Hooper moved forward, experimenting with abstracts in various mediums. This pushed him to expand his horizons and tap into new areas of painting he had not yet explored. There was an obvious freedom and personal expression with abstraction and it was then that he really began to flourish as a professional painter. He was deeply interested in the effects of color, texture and the emotional response to strong composition and design. By removing the representational and creating something that told a story without an observational subject matter was very exciting and touched viewers in various ways. His primary focus other than creating beautiful art is to insure quality of materials and finishes. From museum quality custom sealed wood panels, to his luxurious finishes with every detail recognized.

Today, Hooper's work is a bold mix of styles, ranging from sleek and contemporary to weathered and organic. He brings a subtle and sophisticated feel to his paintings through a unique balance of color, composition, depth and unique textures. His work is exhibited in the most prestigious galleries and featured in private and public collections worldwide.
Artist Statement:
"I've been a professional artist for over 13 years and painting and drawing since l was 4. So creating from imagination about 40 years and the goal of my art is to inspire people like music would. I want to touch the spirit in a way that it gives the viewer a good feeling and encourages positive thoughts and energy. A lot of my art speaks to hope and concurring adversity."
Statement from Nancy Ouimet, owner of Canyon Road Contemporary:
"Cody is in this power place with his artwork: At 44 years old, he has mental and physical strength, mixed with enough years painting to be masterful, and yet he remains in an expansive mode as he masters a myriad of styles."
Read More